My video efforts are aimed at capturing a bit of Hawaiian music, especially slack key guitar. I've been lucky enough to make friends with several artists and I've shot quite a few performances by Ledward Kaapana, a masterful stylist who carries on a tradition started by his family over 60 years ago.
The pandemic threw our schedule off, of course, but we're back in Hawai`i after missing a year. I cut down my gear load a bit by swapping out a couple of cameras for a pair of iPhones to supplement my Lumix GH5. I brought along a Zoom F6 32 bit field recorder and a pair of Shure KSM141 mics and a small suitcase of mounting gear and compact tripods. And Edius on my laptop, of course.
The most viewed of all the videos I've shot with Ledward is one we did in his backyard in 2012, an instrumental called "Black Sand" composed by his father. During the pandemic Led turned his energies to horticulture, redoing the plantings around his house in Kane`ohe, O`ahu. I thought it would be interesting to shoot a new version of "Black Sand" in the new version of the backyard. The big challenge turned out to be the vigorous tradewinds blowing across the island. I don't have any serious wind protection for these mics and I was afraid we would have to use pickups in our guitars and DI into the recorder. Just in case, I switched the mics to omni mode and put on the little foam windscreens to see what I could capture. Here's what we got: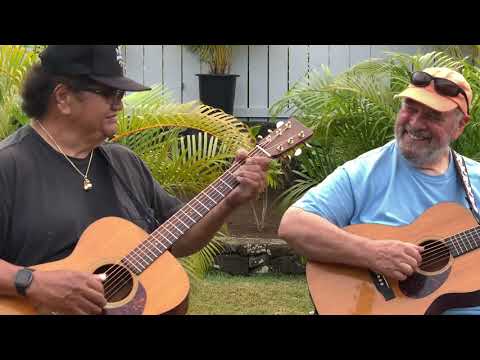 I must say I was very pleasantly surprised by the result.
Fran